If you've ever dreamt of a romantic getaway with your significant other, Bali is the place to make those dreams come true. This tropical paradise offers more than just stunning sunsets and lush landscapes – it's a perfect blend of love, adventure and relaxation. So, put on your metaphorical heart-shaped sunglasses, because we're about to explore the top 7 romantic places in Bali.
Top 7 Best Romantic Places in Bali You Should Visit
1. Ubud: Where Love Meets Culture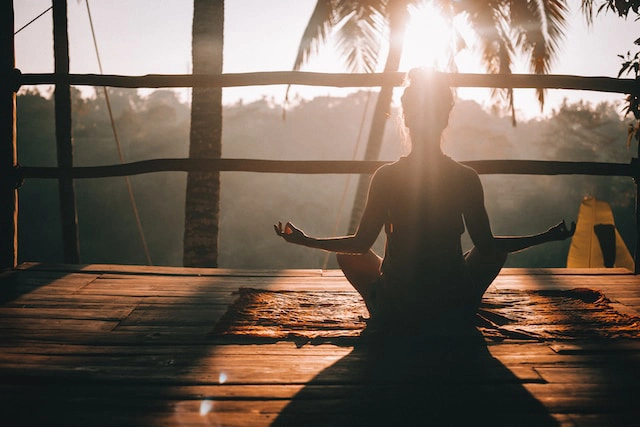 Bali's cultural heart, Ubud, is a place where love intertwines with rich cultural experiences. As you step into the heart of this vibrant town, you'll find yourself surrounded by a tapestry of art, tradition and natural beauty. Start your day with a leisurely stroll through the lush rice terraces of Tegallalang. The vibrant green fields seem to stretch endlessly, providing a stunning backdrop for romantic selfies or hand-in-hand walks.
A visit to the Ubud Monkey Forest is a must, where mischievous macaques entertain and amuse. As you delve into the Monkey Forest's depths, you'll soon find yourself lost in the cool, mystical embrace of centuries-old banyan trees. The vibrant Ubud Market, filled with colorful handicrafts and local trinkets, beckons you to explore its bustling alleys.
As the sun begins its descent, make your way to Campuhan Ridge, and prepare to be mesmerized by a sunset that seems to paint the sky with a thousand colors. For dinner, choose one of the many restaurants overlooking the ridge, where you can enjoy a romantic meal together while the world turns to twilight. End your day with a traditional Balinese dance performance, a celebration of the island's artistic spirit and a reminder that love, like art, is a performance worth watching.
2. Uluwatu: Cliffside Romance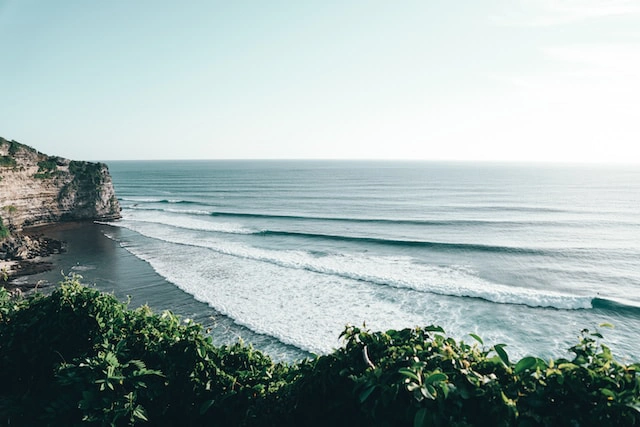 Uluwatu, Bali's cliffside paradise, is where love and breathtaking vistas merge. Perched on the southwestern tip of the island, Uluwatu offers an almost surreal setting for romance. Start your day with a visit to the iconic Uluwatu Temple. Set atop a soaring sea cliff, this sacred temple offers panoramic views of the Indian Ocean, setting the stage for an unforgettable day.
In the evening, make your way to the cliff's edge and witness the mesmerizing Kecak dance performance during sunset. The dramatic fire dance and hypnotic chanting will send shivers down your spine, while the flaming sunset provides a breathtaking backdrop.
Following the performance, indulge in a candlelit dinner at one of the many clifftop restaurants, where you can savor fresh seafood and international cuisine. As you dine, take in the warm, balmy breeze and the distant sound of crashing waves. Hold hands with your loved one and let the sheer romance in the air envelop you as you gaze out over the vast expanse of the Indian Ocean, making this an evening to remember.
3. Seminyak: A Beachy Affair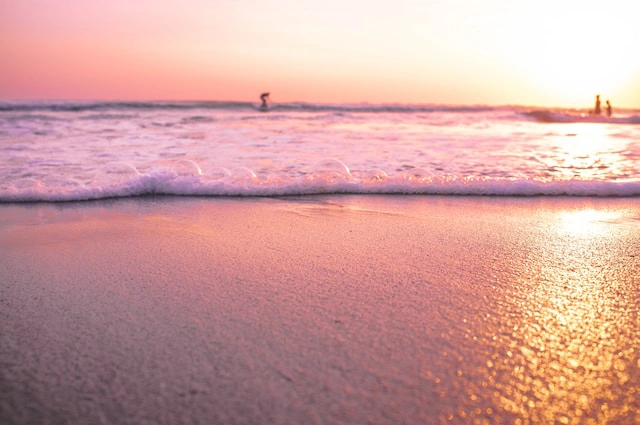 Seminyak, with its trendy beach bars, luxurious resorts and upscale dining, is a dream come true for couples who adore the beach scene. Spend your sun-kissed days lazing on the sands of Double Six Beach or Petitenget Beach. With soft golden sands and inviting turquoise waters, these beaches are ideal for building sandcastles or simply cuddling in the sun.
When the stars begin to twinkle, indulge in a beachfront dinner, with your toes in the sand and the sea as your backdrop. The ocean breeze sets the stage for a romantic evening, as you relish fresh seafood and local delicacies. Later, head out to one of Seminyak's vibrant clubs, where the nightlife comes alive. Dancing the night away in each other's arms is the perfect way to conclude your beachy affair in this lively part of Bali.
4. Pererenan: The Hidden Gem
Pererenan, often overshadowed by its more bustling neighbors, is a hidden gem that promises intimacy and tranquility for couples seeking privacy. The allure of Pererenan lies in its untouched charm. As you stroll along the pristine Pererenan Beach, you'll find that the golden sands harmoniously meet the gentle, rolling waves. This secluded stretch of coastline is your own private paradise.
For a romantic day, consider packing a picnic basket with local delights and relax by the sea. As you soak up the sun and savor the delicious flavors of Bali, you'll create memories that will last a lifetime. For a touch of adventure, take a leisurely horseback ride along the shore. The sight of your loved one riding beside you on the beach is the stuff of romance novels. Pererenan's laid-back charm is the essence of romance, making it the perfect destination for couples looking to escape the world and find each other.
So, when you're kickin' it in Pererenan, make sure you swing by our sweet spot, Woods Bali. This place is the definition of chill – think rustic vibes mixed with nature's finest. We've got the whole package going on – a top-notch restaurant in Pererenan, a cocktail lineup that'll make your head spin (in a good way, of course), and some killer events.
First things first, our cocktails are on point, and the best part? They've got that high-margin magic. You can sip on some unique concoctions while you soak in the laid-back atmosphere. And let's not forget about the live jazz and vinyl nights that'll have you groovin' in no time.
Now, what sets Woods Bali apart is the place itself. Our whole restaurant is like a work of art. It's made entirely from reclaimed wood, giving it that elegant rustic charm. It's the kind of place where you can kick back, enjoy some cocktails and treat your taste buds to some of the best food and drinks you'll find in town. If you're a fan of finding hidden gems in Pererenan, especially those suitable for work, don't miss out on reading about Hidden Gems in Pererenan for Work. So, don't miss out on this slice of Pererenan paradise – we're waiting to make your time in Bali even more awesome!
5. Nusa Lembongan: Island Retreat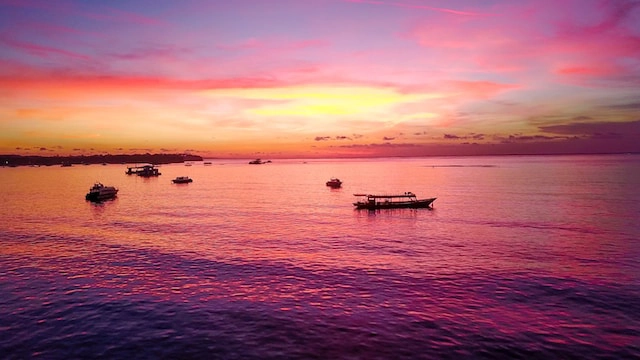 A short boat ride from Bali, Nusa Lembongan is a peaceful island retreat that offers couples a chance to get away from it all. This island is a haven for lovers of the sea and the outdoors. Begin your day by exploring the magical Blue Lagoon, a hidden cove with crystal-clear waters. Dive into the azure depths or snorkel alongside your partner, marveling at the vibrant marine life that inhabits this underwater wonderland.
As the day transitions into evening, make your way to Dream Beach. The name itself hints at the romantic ambiance you'll find here. Walk hand in hand on the powdery sands as the sun sets, casting a warm, golden glow over the island. With only the sound of waves and the whisper of the ocean breeze, you'll feel like you're on your own private island. Nusa Lembongan is a sanctuary of natural beauty, perfect for couples looking to escape the world and rekindle their love.
6. Lovina: Dolphin Serenades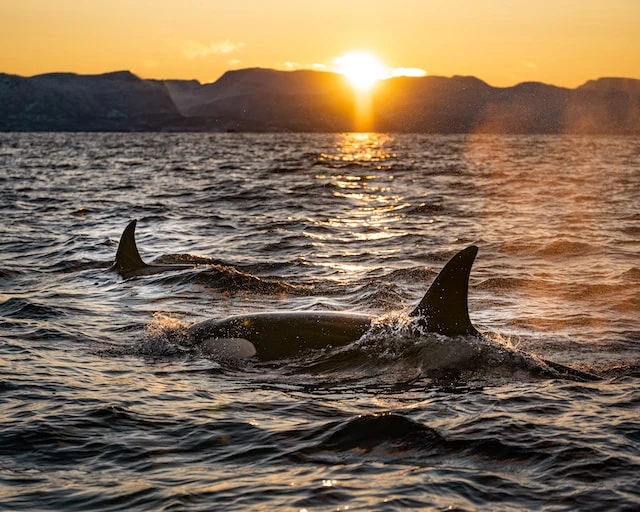 If you and your partner share a love for the ocean's gentle giants, Lovina is the place to be. This quiet coastal town on Bali's north shore is renowned for its early morning dolphin cruises. Board a traditional boat at dawn and cruise along the coastline to spot playful dolphins in their natural habitat. Watching these enchanting creatures leap and frolic in the waves is a memory you'll treasure forever.
After the dolphin adventure, soak your worries away in the Banjar Hot Springs, where natural spring waters offer a soothing experience amidst lush tropical gardens. Conclude your day by visiting the Gitgit Waterfall, a serene place to be surrounded by nature. The sight of water cascading from the heights of the jungle will leave you in awe, and the secluded ambiance makes it a perfect spot for couples seeking a unique, nature-centric romantic experience.
7. Tirta Gangga: Water Palace Wonders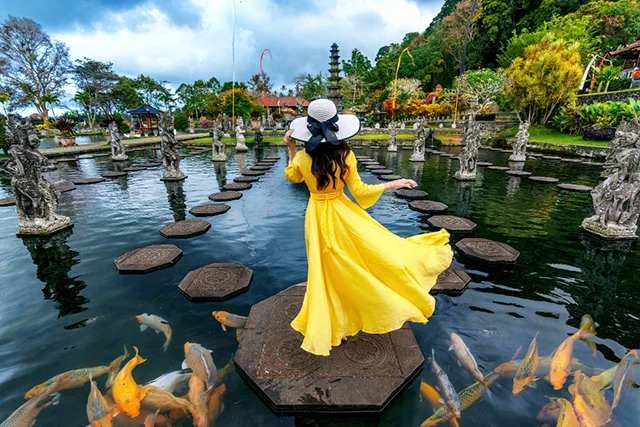 Tirta Gangga, known as the "Water Palace," is a serene sanctuary located in East Bali. As you wander through the stunning gardens, filled with fountains and fish ponds, you'll discover a sense of serenity that's perfect for couples seeking relaxation and intimacy. The royal bathing pool, in particular, is a romantic spot to share a moment. Feed the koi fish as you watch them glide gracefully beneath the serene waters.
Tirta Gangga is a place where time seems to stand still, allowing you to connect with your partner and the surroundings on a deeper level. As you immerse yourself in this tranquil retreat, you'll find that Tirta Gangga is not only a physical place but also a state of mind – one where you can truly escape the daily grind and experience the wonder of love and life.
In Bali, romance takes on many forms, each as unique and captivating as the island itself. Whether you're exploring the rich culture of Ubud, gazing at the Indian Ocean from Uluwatu's cliffs, or enjoying the beachy vibe of Seminyak, you'll find that Bali is a place where love flourishes and memories are made. Each of these destinations offers a glimpse into Bali's diverse and enchanting character, making it a paradise for couples in search of romance and adventure.
Top Romantic Activities for Couples in Bali
Couples' Spa Day: Bali is renowned for its luxurious spa treatments. Share a couples' massage or enjoy a relaxing spa day with your partner.
Cooking Classes: Learn the art of Balinese cuisine together. It's a delicious way to bond and bring a piece of Bali back home.
Sunrise Hikes: For the adventurous couple, early morning hikes to the summit of Mount Batur are a must. Watch the sunrise over Bali and enjoy a well-deserved breakfast on the volcano.
Bali Swing: Swing high above the jungle canopy for a thrill and breathtaking photos to commemorate your trip.
Temple Exploration: Discover Bali's spiritual side by visiting the island's many temples. Each one has a unique charm and atmosphere.
Waterfall Chasing: Bali boasts numerous waterfalls, each with its own distinct allure. From the mystical Tegenungan to the jungle-clad Sekumpul, these make for romantic and awe-inspiring day trips.
Balinese Dance Classes: Learn the art of traditional Balinese dance and perform together. It's a fun way to connect with the local culture.
In conclusion, Bali is a haven for lovers, with its blend of natural beauty, cultural richness and endless romantic spots. Whether you're exploring the vibrant streets of Ubud or basking in the hidden tranquility of Pererenan, Bali has everything you need to ignite and celebrate your love. Bali's allure is irresistible, so pack your bags, and let the Island of the Gods work its magic on your romance.